Safe And Positive Programs For Our Youth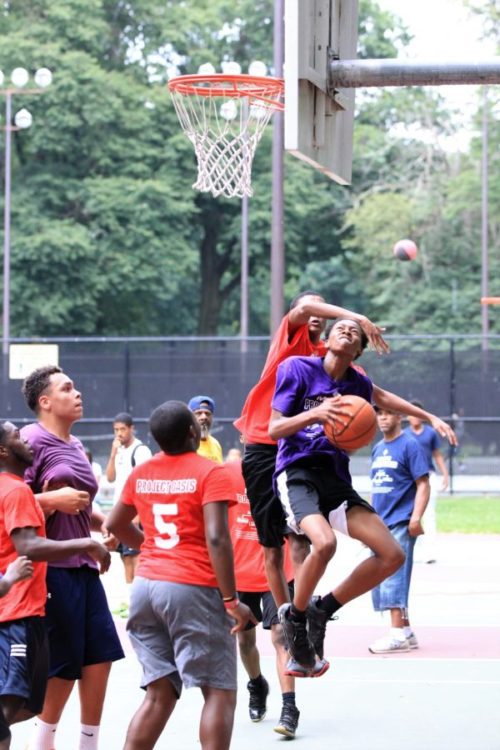 MNDC's Project Oasis program provides opportunities year round for at-risk children and youth to benefit from education and recreational opportunities in a positive environment. Started in 1997 out of concern for the achievement gap amongst African American youth, the program creates a safe and nurturing space that allows kids to enhance their life skills, improve their academics and make friends. Caring volunteers and staff mentor the youth while keeping them accountable and helping them to aspire to their potential.
SUMMER OASIS
Summer Oasis is a free, six-week program for Montclair Township teenagers who have limited alternatives during the summer. For 2018, the program takes place June 25 – August 3, Monday – Friday from 5 – 8:30 p.m., in partnership with Brother to Brother. Students ages 9 – 18 in the Montclair area (including Bloomfield and Belleville) can enroll for this summer camp that provides a safe, positive outlet. (The only cost is $10 for a program t-shirt.) The program meets at Glenfield Park in the Wally Choice Community Center where certified teachers provide enrichment and tutorial sessions, matched to the students' needs in order to improve their abilities in financial literacy, math, science, language arts, and life skills. At the end of the evening the youth play a friendly (but competitive) game of basketball under the guidance of a coach.
Since starting in 1997 with 40 students, Summer Oasis has grown dramatically to serving about 150 youth annually. This success is a result of word of mouth promotion and overwhelming community support.
WINTER OASIS
Winter Oasis is an After School Program for students in grades 4 – 8 that meets on school days from 2:30-6 p.m. at the Wally Choice Community Center, 49 Maple Avenue in Montclair. The children can do their homework, receive tutoring, make friends and have fun. The program focuses primarily on homework, studying and organizational skills. Students may also get help in core curriculum subjects and special programs. We thank Toni's Kitchen for providing the program with sandwiches and dessert. The program is led by Gail Dunn, Director of Student Affairs.
Project Oasis has been able to grow and accommodate an increased number of students each year through the generosity of the following MNDC partners:
 
FUNDING
United Way of North Essex
Montclair Fund for Educational Excellence
Community Services Block Grant
Community Development Block Grant Program
Social Services for the Homeless
Montclair Board of Education
Comcast
Numerous individuals and organizations throughout Montclair and surrounding communities
IN-KIND SERVICES
Montclair Police Department
Montclair Board of Education
Project Oasis Brochure & Registration